What would you think is the best sex position for ensuring the woman achieves her orgasm? Could it be face to face, male on top (missionary), face to face, female on top (cowgirl), rear entry (doggie), or sitting face to face (lotus/various)?
It's a major issue when there is such a massive orgasm gap between men and women. Indeed, a study of 800 college students found that, in heterosexual intercourse, males climaxed over 90% of the time as compared to an orgasm rate of under 40% for females.
So, how to find out which position is best for women to reach orgasm? Recently, some intrepid researchers at a private clinic in New York set out to provide a scientific answer. It turns out that the clitoris needs to be engorged (filled with blood like the erect penis) for orgasm to happen. The researchers worked out a way to gauge this with the aid of an ultrasound scanner. It was used to measure the blood flow levels before and after a volunteer couple had engaged in penetrative sex for ten minutes. The results were then compared for each of the main sex positions.
Surprising for many is that the doggie position – where the woman is on all fours and the man is kneeling and enters her from behind – proved to be the least effective. Despite being a favorite for both men and women, it scored the lowest in the blood flow test. Actually, this is hardly surprising when it involves the least amount of direct clitoral stimulation (unless, of course, one partner adds in a helping hand).
The r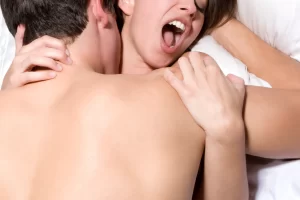 esults showed that it is actually face-to-face positions that are the most effective in stimulating clitoral blood flow. So, the standard missionary position should not be seen as so humble at all. Even better, though, they found that adding in a pillow under the woman's hips provided the most effective way to maximize blood flow to the clitoris. Case closed. Or is it..?
Let's back up a bit. As a scientific study, it didn't stand up to much scrutiny. For a start, there was actually only one couple involved – so there's no way of knowing if their responses would be the same for all, or even the majority of, couples. Also, the study only gauged the comparative levels of blood flow to the clitoris in these 10 minute sessions. Now, whilst that is indicative of the level of sexual arousal, there was no concern with whether the volunteer woman involved actually achieved orgasm in any of the positions.
A much larger study of preferred sex positions involving many thousands of heterosexual couples did find that face-to-face positions were the overall favorite. However, in the league table of which was likely to result in climax for the woman, it was the cowgirl that came out, so to speak, on top. The reason may be that in this position not only does the woman mostly control the pace, rhythm and depth of penetration – she can grind her clitoris onto her partner's pelvis and so provide herself with maximum stimulation.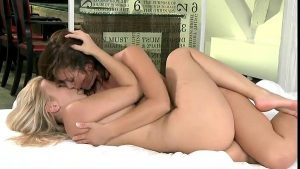 It is interesting to note that it is lesbian women who score the highest in achieving orgasm – at over 60%. Various theories on why include that they spend more time on sex (30 to 45 mins), are much more aware of female anatomy, and are more likely to include oral sex in their activity.
There's an important message here for straight couples. Short encounters – like the 10 minutes in the study – are much less likely to provide equal satisfaction for both partners. Taking time with good sexual techniques suited to the female partner is the best way for her to achieve orgasm.
It also turns out that many people only ever make love in one to three positions throughout their lives. The "Lovers' Guide: Sex Positions" offers over 60 exciting ways for lovers to expand their repertoires. You can stream it from our  Video Store: https://www.loversguide.com/product/lovers-guide-sex-positions/