Many people think of scissoring as involving lesbians enjoying vulva on vulva action. And it does – with over 40 per cent of women identifying as lesbian, bisexual or queer enjoying scissoring regularly, according to one survey. But it is also a much broader sex position than that – it also works when one partner has a penis and the other a vulva – or both have penises. Fact is, it's a sex act that involves genital-on-genital of any gender rubbing and grinding against one another.
It gets its name from usually involving the two people taking part spreading their legs – like two open scissors – and wiggling towards one another until their genitals meet in the middle. Often their bodies are 180 degrees from each other – with heads furthest from each other's.Both partners can be lying on their back or sides, or it can happen with one partner straddling the other.
Make like a teenager! Scissoring and frottage
For many it takes them back to hot teen days when you rubbed against each other with clothes on. Even as adults, scissoring can be intense with clothing on, too. You might have one partner leave their jeans on so the second partner can experience additional friction.Or you might both keep your clothing on in a dry-humping move. Experiment with different kinds of clothing to give a range of sensations.
Scissoring can often be a more acrobatic and physically active sex position than many. For those into it, the sensations can be spectacular, while for others, because of body shapes, flexibility, hip mobility and pleasure spots, it may not be fun or achievable. Even for those it suits, it can help to warm up first – just as with a workout. Exercising by flexing and opening up your hips beforehand can make things more comfortable and help you go for longer without tiring.
Muscle up! Saddle up!
In terms of energy expenditure and requisite strength and stamina, scissoring is right up there with girl-on-top or cowgirl positions. As you get into scissoring sex, you're going to want to move your genitals vigorously up and down against each other's to stimulate them. This movement majorly calls on your glutes, core, quads, and hamstrings. If the effort does start wearing you out, ask your partner to switch up to be the one doing most of the work.
As we said, not everyone who tries or likes scissoring identifies as a lesbian and, on the other hand, many lesbians do not practise it, yet this does not make them any less lesbian. Sexual orientation, in actuality, is set by personal identification, not by which sex acts you happen to be into.
Female arousal and orgasm
Having said that, people with vulvas have a lot of sensitive and erectile tissue in the labia and the clitoris. And the clitoris we now know is way more than the little pearl at the top of the labia. The organ is complex, has twice as many nerve endings as the penis, extending under the labia on either side of the vulva. That's what makes stimulating this entire area – which scissoring certainly should – feel majorly arousing. So much so that the tissue engorgeswith all the blood rushing to the entire area – very similar to the male erection.
It also seems that scissoring actually activates the pelvic floor muscles, almost causing you to move your pelvis in a grinding motion against your partner. And because orgasms involve convulsions of the pelvic floor muscles – as well as plenty of clitoral stimulation – many find that reaching orgasm, and getting there more quickly, is a big benefit of this position.
Even though the genitals naturally produce quite a bit of lubrication during sex, it's actually the vagina – the internal passage – that produces the lubricant, and not the vulva – the external part of female genitalia. Bottom line, rubbing vulvas can cause chaffing – so it can really help to add lube into the mix to help the parts grind easily over one another and avoid chaffing.
Stimulating the penis
What if one of the partners (or both) has a penis? Scissoring allows them to experience the sensation of rubbing their penis against something warm – and usually wet – attached to a person who turns them on. Inherently, that's going to feel good. It makes sense if you think about it: what do a hand job, oral sex and penetrative intercourse have in common? They all involve stimulating the external portion of the penis. The rubbing and grinding of scissoring also involves that kind of stimulation. If the penis involved has not been circumcised, the back and forth motion of scissoring moves the foreskin up and down the penis in a way that can be incredibly stimulating.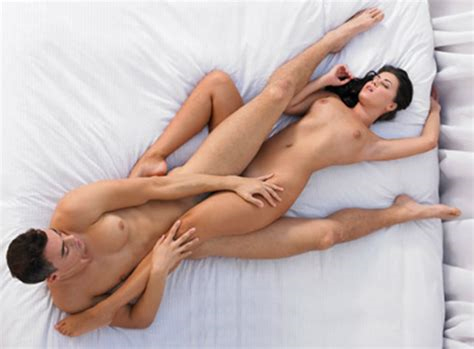 Scissoring when one or both has a penis can also involve penetrative sex. In the right position, penetration of a vagina or anus is possible – and can involve wildly different sensations for both people involved.
Sex positions
So what positions are there for scissoring? The classic has one of you lying on their back, the other on their side, facing opposite to each other, both with your legs spread, scissor fashion. You then slide between each other's legs till you meet at the genitals. Once there, feel free to move and grind to find the most arousing rhythm and pressure.
Another position basically involves just humping and grinding. What's great about it is you can alter the amount of pressure to maximize the pleasure. One partner lies on their back, legs spread, while the other climbs on top. The one above straddles the bottom partner's thighs so that their upper leg applies pressure to their partner's genitals.
One for more acrobatic couples, is the 'lifted-leg missionary'. For this, one partner lies on their back, one leg lifted in the air. The top partner holds this leg up whilst straddling the lower leg. You then both move side to side in different ways to discover what is most arousing for you both.
Standing with your partner, and grinding with/against them, while one of you leans against the wall can be very sexy and satisfying. Basically, you recreate the front-facing frottaging dance positions that weren't allowed at your high-school balls. Adding in a sexy location can take you to an even higher level of sexual heat. So, maybe try standing grinding in the restroom on your next night out.
Sex positions and sex toys
Any of these sex positions (and most any other too!) is made better by the addition of a sex toy. Adding vibrations between both of your bodies gives amazing extra sensation. A great one is the We-Vibe – click to explore – which is a wearable couples' vibrator that allows one partner to experience internal and external stimulation, while the other gets intense external stimulation.
The sex toy possibilities here definitely aren't limited to vibrators. Internal toys work fabulously, too. Everything in the pelvic region is interconnected, so filling your vagina or anus with a non-vibrating toy such as a butt-plug or vaginal beads will majorly enhance your arousal. And, as we said, do add in plenty of lube to avoid chaffing.
Scissoring unfortunately isn't synonymous with safe sex. Whilst it tends to be a lower-risk sexual activity, it's not a no-risk sexual activity. STIs can spread through skin-to-skin contact and those STIs that spread through bodily fluids can be easily be spread during the position. If you don't both know your current STI status, or one or both of you currently has an STI, you should reduce the risk of transmission by using protection. If a penis is involved, that means wearing a condom, while for two vulva-owners that means you could use a latex dental dam.
And, of course, if your version of scissoring includes a penis going into a vagina, pregnancy becomesa real possibility. If that's not an outcome you want, take proper birth control measures.
Scissoring has been way too pornified – causing some to avoid it, when they would actually enjoy the sizzling sensations it can create. Is it just lesbians and queer folk who do it? Well, some do and some don't – and there's lots for the straight community to discover here, too. It's open to all not just vulva owners. Bottom line: try it whatever tackle you have and see if it works for you.
Explore more sex positions – video downloads….
Explore more sex positions with the Lovers' Guide video download Sexual Positions – click to play….