Get the buzz! Sex toys used only to be sold through specialist sites like the Lovers' Guide – or Love Honey (and we have now joined forces with them to bring our visitors their full range). Now sex toys are everywhere – including on Amazon – and there are only going to be more of them. Thousands of manufacturers offer a mind-boggling range of products catering to different male and female body parts, orientations, genders, kinks, fetishes, and much, much more.
Are More Sex Toys Bought By Women Or Men?
It was often thought that sex toys – such as dildos, vibrators (including double-duty ones such as rabbits and We-Vibes), clitoral lickers and suckers – were mainly bought by women. After all, the fact that most women do not orgasm through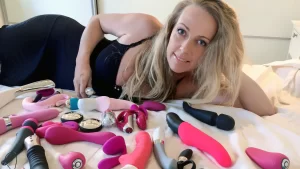 penile/vaginal alone should be enough to send most in search of a sex toy. In terms of who is actually buying them, some stats suggest the majority of buyers now are males. It may be, though, that men may be more at ease with making such purchases and then do so for their partners.
That seems to contradict the concern that women using a sex toy is a judgment that their partner isn't a good enough lover. Another major issue can be that one partner (usually the man) fears that the other's use of a sex toy will replace the desire for them or that their partner will become overly reliant on such devices for arousal and/or to achieve an orgasm.
Actually, studies have shown that men who regularly use vibrators on themselves, on their partners, or both, score higher on such measures as easily gaining erections, orgasmic function, high sexual desire, and strong sexual satisfaction, than men who have rarely or never played with a vibrator.
Using Sex Toys Boosts Sexual Satisfaction
Couples who are happy to explore novel ways of being intimate, including trying out one or more sex toys, tend to fare better in maintaining passion and desire, including relationship satisfaction, over the long term. It wa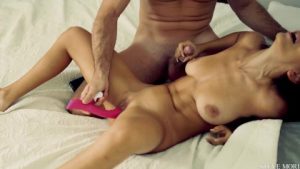 s the women and men who reported feeling satisfied by their relationship – and the sex that they had with their partners – who were more likely to report having used sex toys together. This was often in conjunction with other activities, such as taking showers together, trying new sex positions, and scheduling intimate date nights together.
The Power Of Positive Communication
Couples who are good at positive communication should be able to talk through any concerns. Ideally, the partner with any inhibitions would feel heard and validated and receive reassurance from their partner that a desire to use a sex toy is in no way a comment on their virility, desirability, or sexual ability.
Equally, the partner who wishes to use a sex toy should happily communicate that desire without being judged, shamed, or having any other negative response triggered. It does seem to be overwhelmingly the case that being able to communicate openly, and feel that one's sexual interests and pleasures are accepted by one's partner, only leads to an increase in satisfaction, both inside and outside the bedroom.
Everything points to there being a genuine boost to sexual satisfaction, and strengthening of the relationship, that incorporating sex toys brings. It does, though, require both partners to be open to, and considerate of, their own and their lovers' inclinations and boundaries. With that, most people will come around to the benefits of bringing new aspects into their sexual repertoire. If there is resistance, talking through issues can be helpful in dispelling myths a partner may harbor about sex toy use.
Try Choosing A Toy Together
A first and ver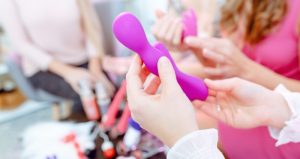 y helpful step along the way could be in choosing sex toys together. The options are endless, not to mention that some are better quality or more expensive than others. Luckily, most can be divided into a range of categories.
As well as the various women's stimulators mentioned above, there are specific vibrators such as G-spot ones for women and prostate massagers for men; there are various male masturbation sleeves; vibrating cock rings can increase pleasure for both partners; there are various anal stimulators including anal beads, and active and passive butt plugs, for both sexes. There are advanced "teledildonics", which just means remote-controlled devices. Sometimes they are built into male and female sex dolls. Then there are the more BDSM leaning masks, ropes, handcuffs, paddles and whips..
Once you have a sense of the type of toy you want, it's a lot easier to decide on a specific toy from there. So dive into our LoveHoney sex shop and enjoy searching through what you find there.