When we think of going down on a woman (cunnilingus), we probably think of three positions, at most. Probably the first to come to mind is of the woman lying on her back, legs akimbo, and the partner's face in her crotch pleasuring her. Next you may picture the iconic 69 position, and then the classic of the woman sitting on her partner's face.
Actually, there is a whole range of possible positions just waiting out there for you to explore. All you need is a willing partner, and an adventurous spirit, and oral sex for you will forever be changed for the orgasmicly better. (It's interesting to note that, though men love blow jobs, they have more difficulty coming from them – where women often find they only come from oral – and manual – sex. And often, most enjoy a combination of the two!)
We're assuming that your partner knows where your clitoris is – and that you are happy to let him know how you like to be licked and played with down there with tongue and mouth.
Communicate with your partner using 'I' statements in order to get him to engage in the techniques that work for you. A good lover will always aim to please. Say things like 'I love it when you lap my clit like you were licking a big ice cream.' Always be encouraging, never critical or judgmental. Direct him to surrounding areas if direct stimulation is too much (though you'd be surprised how many women love a good tongue lashing).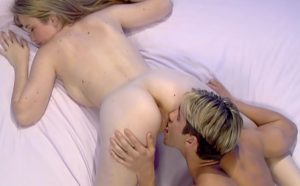 Image from the Lovers' Guide video download Sex Play
Vary oral sex positions
Still, this is about varying positions – so why not start with the reverse hug. The partner holds the woman upside down in front of him. Her back is against his, with her legs over her partner's shoulders and her own neck and shoulders resting on the bed. He can then rummage his face between her thighs.
Another great position is the doggy-style – exactly as with the penetrative sex position, though better if she sticks her rump slightly higher in the oral version to give her lover full tongue access. Indeed, a great move for a guy partner is to alternate between using his tongue and penis – that way many multiple orgasms may lie for her!
Sitting on someone's face for oral sex (either forwards or backwards) is a classic – and in that it allows full access to her genital area, it can be hugely erotic. But it can also be awkward, or uncomfortable with the woman having to squat – so she is not actually smothering her partner by putting all her weight on his face. Better to be in an all-fours posture. Getting on your hands and knees above your partner, lying on his back, with you supporting yourself — will make it much more generally comfortable for both of you. There's all the intimacy, and intensity, you expect from face-sitting, without the discomfort.
Standing oral sex positions
A variation of this is for your partner to lie with his back on the bed, head over the edge. You stand and approach him either facing forwards or away. If the bed is low enough, there should be room for the woman to squat slightly and for her partner to get his head between her legs. You can control the intensity by bending your knees as much or as little as you want. You can also support yourself, if facing him, by leaning forward and placing your hands on the bed.
For other standing positions try simply leaning forward while your partner kneels behind you. For this, you might want to use the walls for stability, be it in your bedroom, your living room or your shower. And, speaking of the shower, there's the added advantage of dealing with any concerns about smells and tastes (wrong as they are). Oral sex in the shower keeps everything fresh as well as adding a whole new dimension.
Then there's any number of seated positions. One we like is for you to sit in wide, comfy chair, hugging your knees but keeping them apart. Your partner kneels on the floor in front of you with great access to your nether regions.
Variety is the spice of life. It's great to keep things fresh and varied, not to mention probably giving you more explosive orgasms just because of the increased excitement and eroticism of trying new things. Don't be shy to let your partner know when he's hitting the spot – and with what intensity, pressure, speed and rhythm works best for you. It may change for different times, moods and positions. So enjoy the adventure of discovering what works best for you and what doesn't – as you open up a whole new oral sex repertoire.